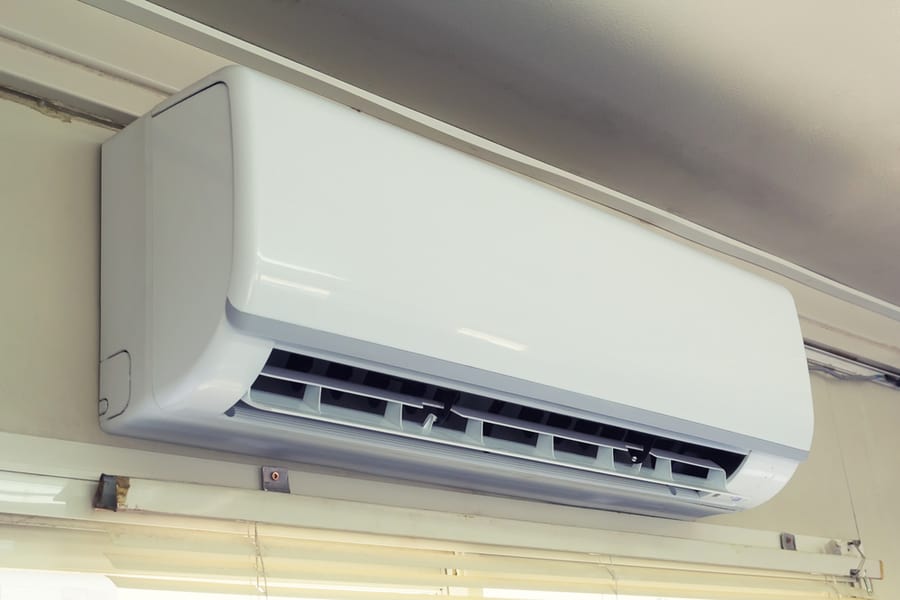 Mini split air conditioners are becoming more popular by the day because of their efficient and advanced features, but that means.
If you also bought a new one, its problems will also be new to you but don't worry, we have got you covered.
Although the small size of a mini split AC provides convenience for users, its problems will also be comparatively complicated, like quick clogging of pipes, compressor failure, and battery issues.
Keeping a troubleshooting guide will always come in handy for all such problems.
Following are some common problems you may face with your mini split air conditioner and ways to fix them:
Dealing With Blocked Drain Pipes
Catering to Malfunctioning Fans
Issues About Power Supply
When Your AC Gives Foul Odor
Clogged Netting and Exhaust
Temperature Imbalance
Increasing Dampness
Compressor Failure
Connection Problems
AC Producing Unusual Sounds
Fluid Leakage
Some problems might need a technician to fix them, but some can easily be solved if you have the right understanding and knowledge about them without spending too much time, effort, and money.
11 Most Common Split AC Issues You Can Solve in Minutes
There are a plethora of problems that your split AC might come across. To function properly, you must solve these issues at your earliest.
Here are some most common issues that you should know about:
1. Dealing With Blocked Drain Pipes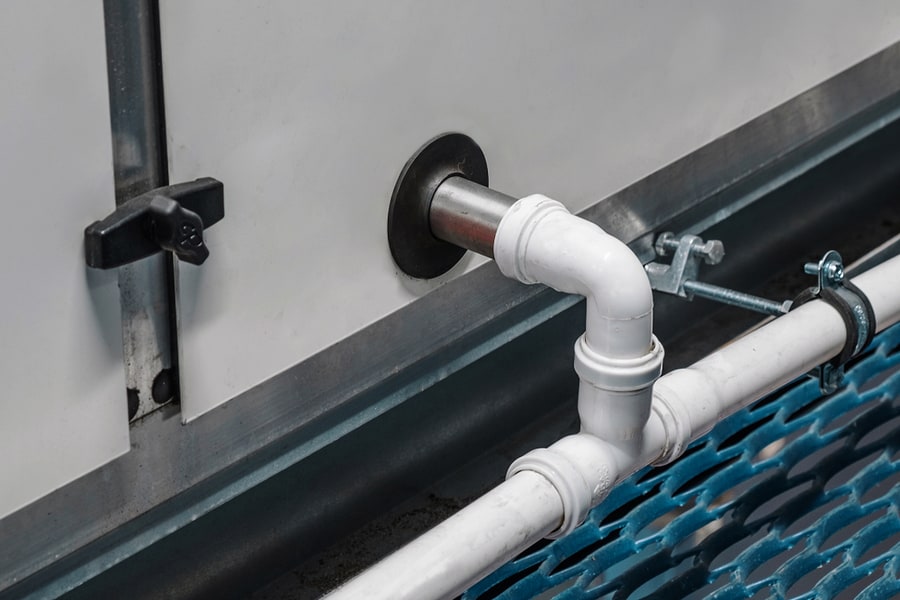 Drain pipes open through the outdoor unit and carry excretory water to dispose of it outside.
If the air conditioner is old, it's probably due to the accumulation of dirt with time, and if it's new, it probably got dented during the installation process.
Solution: The solution is that you need to take off the pipes and clean them and fix the dents for smoother flow.
2. Catering to Malfunctioning Fans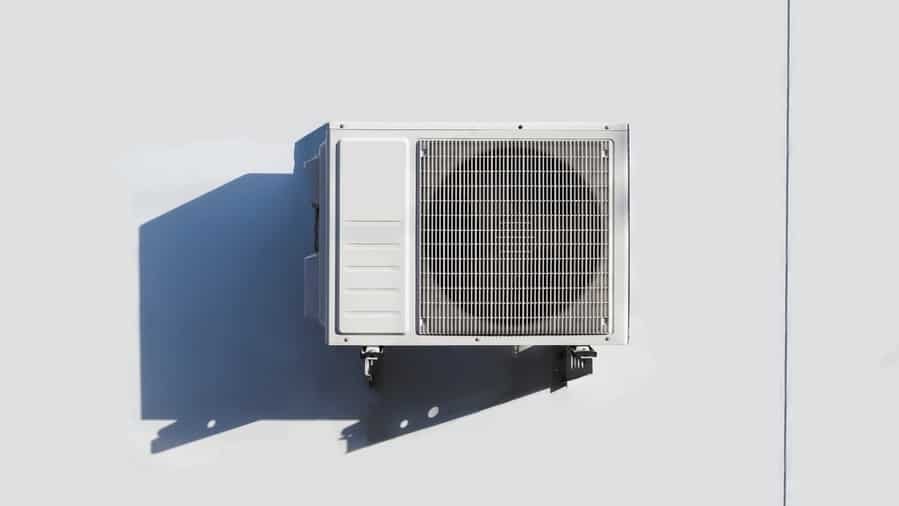 Fans are supposed to circulate cool or warm air between an air conditioner and the room. There is a motor that runs these fans.
If you smell something burning with slow or no fan movements, know your fans have a faulty motor.
This should not be neglected because all the machinery is interlinked and can start a chain reaction of problems.
Solution: Solving this problem is as easy as getting a new motor and installing it as soon as possible
3. Issues With the Power Supply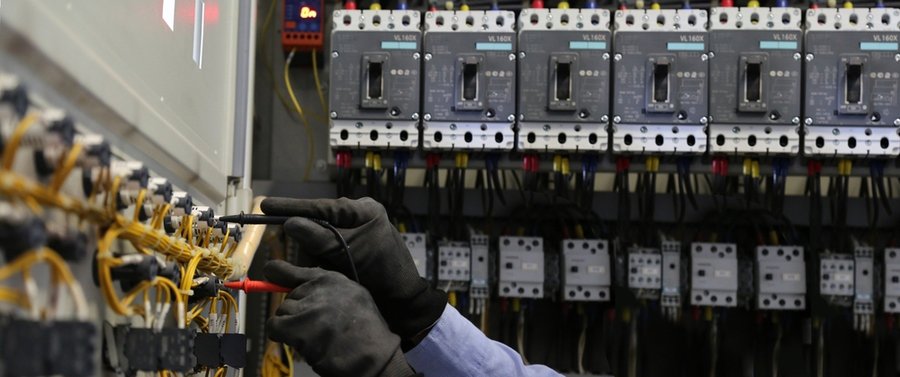 If your air conditioner has started working slowly, regardless of well-intact parts, the problem is in your power supply. This can be confirmed by putting new batteries in the remote to rule out the cause.
When your air conditioner does not receive enough voltage, it has to work under a lot of pressure, affecting the overall efficiency of the AC.
Solution: Call an electrician and ask him to check your circuit breaker and wiring properly.
4. When Your AC Gives Foul Odor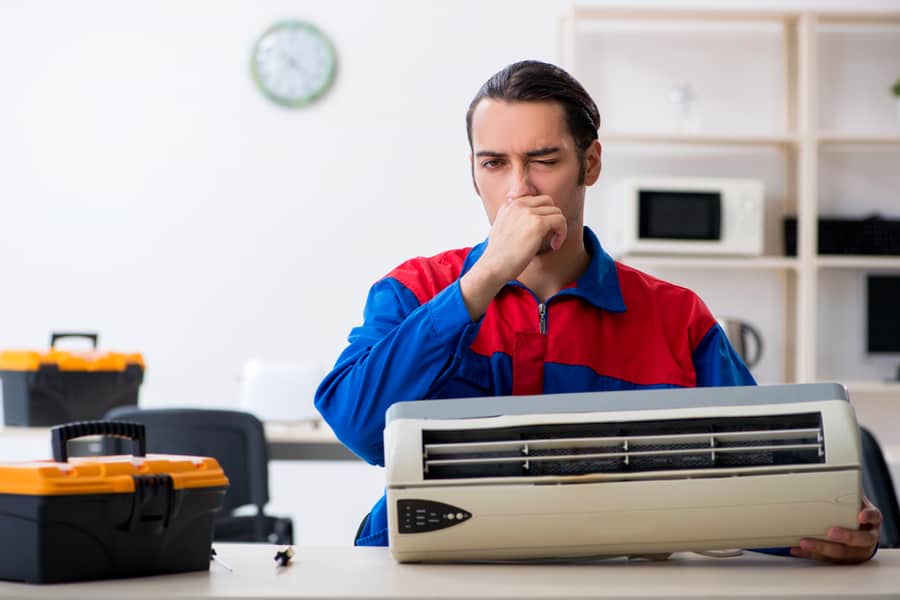 Apart from dirty coils and pipes, the main cause of bad odors is the leakage of battery fluids or the refrigerant inside the air conditioner, so whenever the air blows out, it brings that foul smell.
Old pipes are worn out, and even slight pressure can make a leak.
Solution: Take off the front console, see if any fluid is visibly leaking, and check your motors and batteries. You will also need to repair your pipes to stop the leakage.
5. Clogged Netting and Exhaust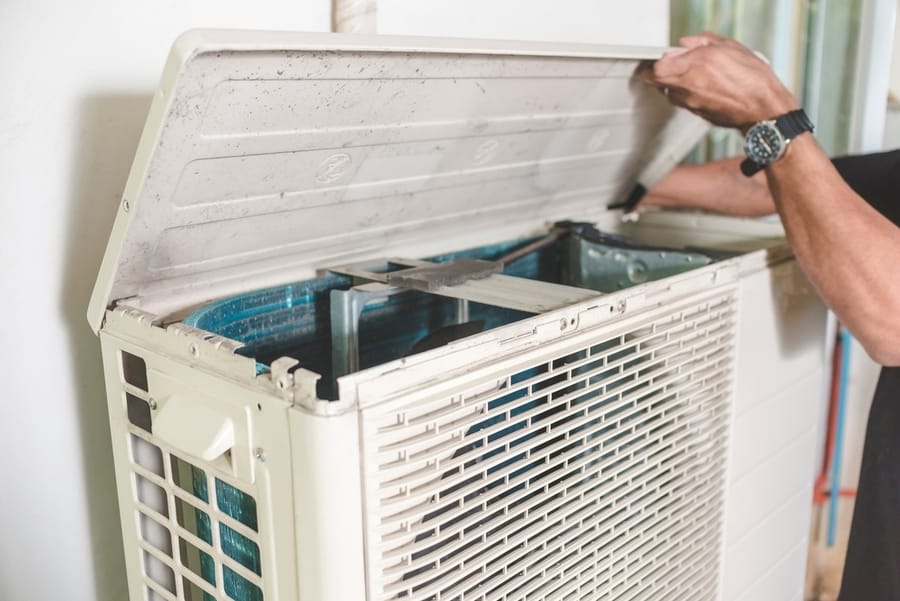 If you do not clean your filters and vents every three to four months, they will clog fast, making the thick residue more difficult to remove.
Clogged vents put pressure on the internal machinery, and you will notice heavy vibrations and sounds along with decreased efficiency of the air conditioner. This will affect your cooling and add dirt to the air.
Solution: Clean your filters at least every six months or replace them with new ones if it's been over five years.
6. Temperature Imbalance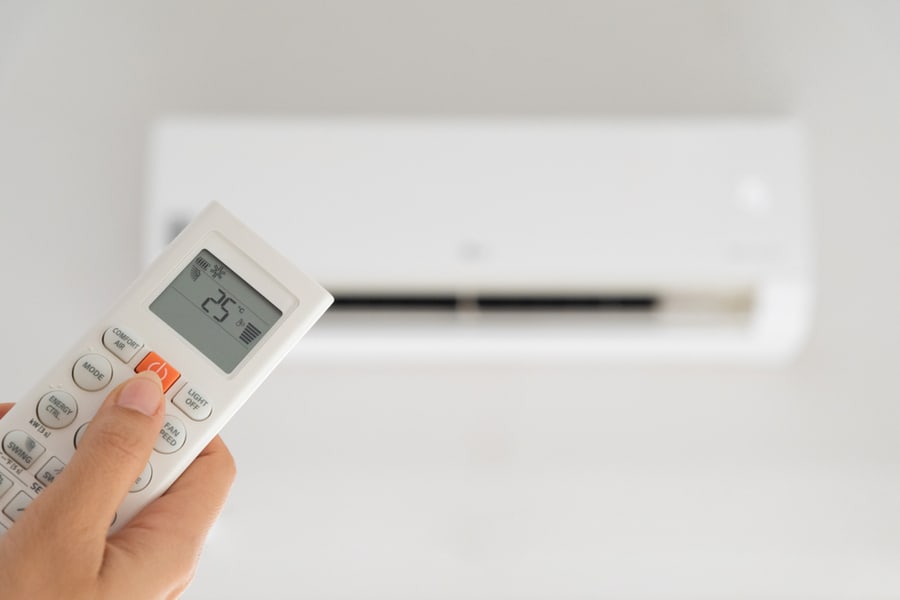 This can have two reasons if you notice an abnormal temperature drop or rise after intervals.
First, your remote control has a dying battery that is not strong enough to send signals, and second, your signal detector in the air conditioner is not catching these signals.
Even if it catches the signals, it cannot read them correctly.
Solution: Get a new remote battery. Call your company electrician to check the internal signal reader system completely.
7. Increasing Dampness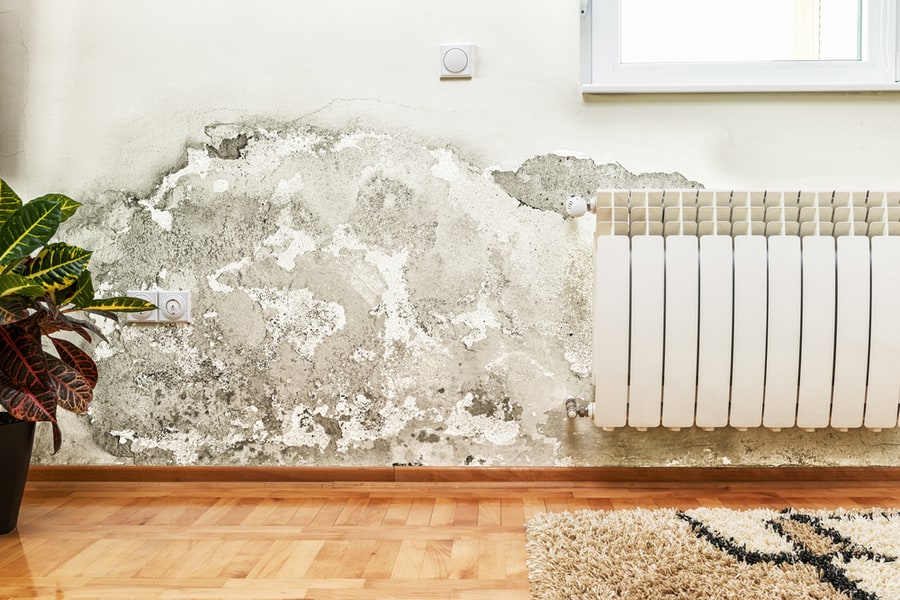 Your mini-split controls the humidity in the room very quickly according to the temperature settings, so even the slightest feeling of dampness or increasing dampness is a sign of some faulty machinery.
For an air conditioner to remove the humidity, it must remove all the water vapors through the drain pipes.
If these pipes are all blocked, and there is no outlet for humidity to escape, it throws it back inside the room, increasing dampness.
Solution: Clean your drain pipes and other outlets to steady the flow.
8. Compressor Failure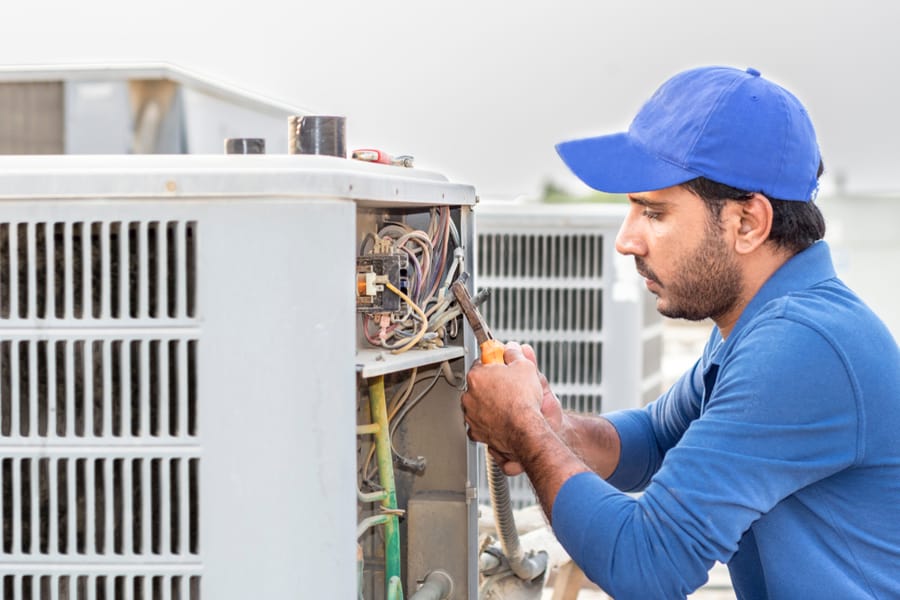 The compressor is the heart of machinery; if it is affected, the entire air conditioner will suffer the consequences.
There are many signs associated with this issue, like clutching sounds, sudden power trips, increasing electricity bills, low cooling, quick refrigerant drying, etc., depending on your compressor's age.
Low-capacity compressors start showing these signs in eight years, whereas higher-capacity compressors can go up to ten to fifteen years.
Solution: Guard your outdoor unit by putting shade over it or installing a fence around it. You must ensure it is not directly exposed to sun, wind, and animals outside.
Call your electrician to make sure the interconnected wires are not damaged.
9. Connection Problems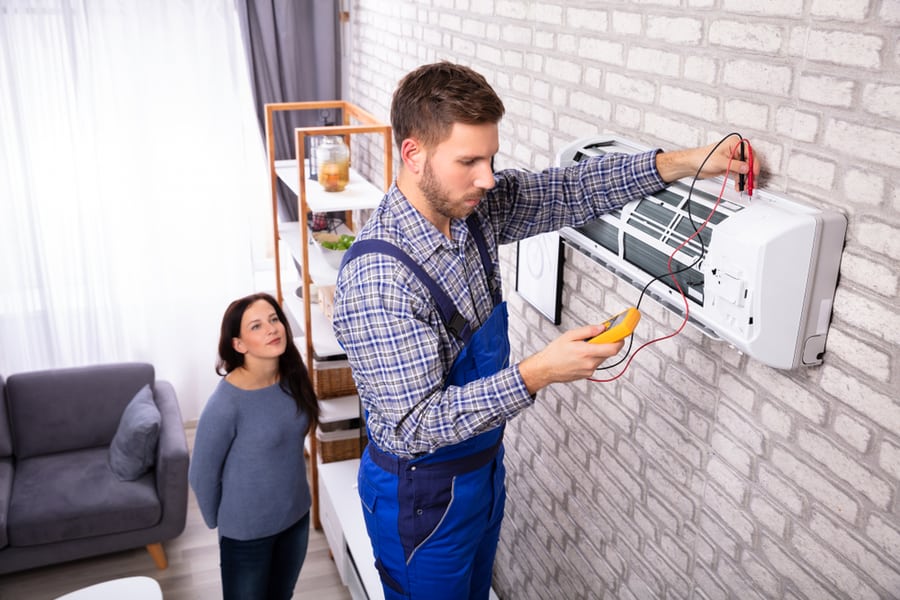 Both outer and inner units should coordinate properly. If your air conditioner does not function in sync, then it is due to improper installation and wiring during the installation.
Another reason could be an unprotected outdoor unit. This happens when one unit is affected, and it stops the other unit from functioning properly.
Solution: Guard your outdoor unit by putting shade over it or installing a fence around it. Always ensure it is not directly exposed to sun, wind, and animals outside.
Call your electrician to make sure the interconnected wires are not damaged.
10. AC Producing Unusual Sounds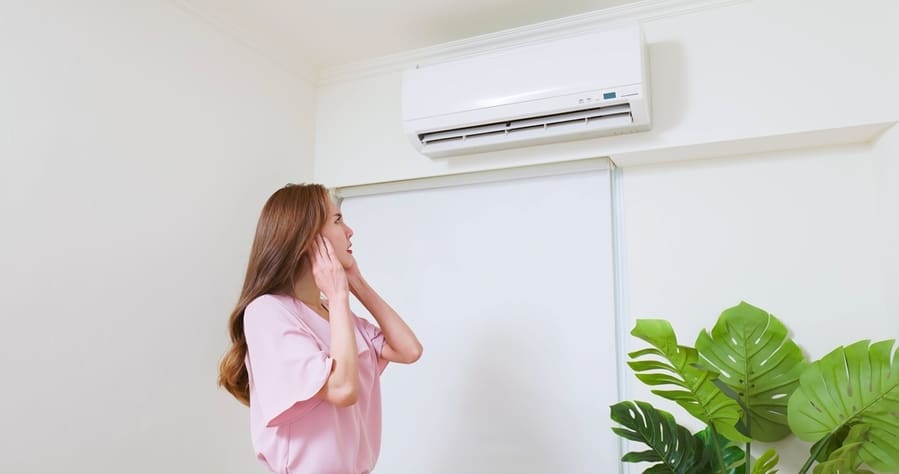 Different sounds are associated with different problems. For instance, a ticking sound means your mini split air conditioner has dented fan wings.
It is normal if it is only heard three to four times right after starting and then stops, but if it keeps going, it's a problem.
If you hear a loud engine, it is due to increased pressure, probably because of your clogged pipes, exhausts, or any other outlet blockage.
If there are increased vibrations and loud buzzing, your compressor must be replaced.
Solution: The solution depends on the associated issue. Open the exhausts, replace the compressor, do not cross the temperature limits, and fix the dented fans.
11. Fluid Leakage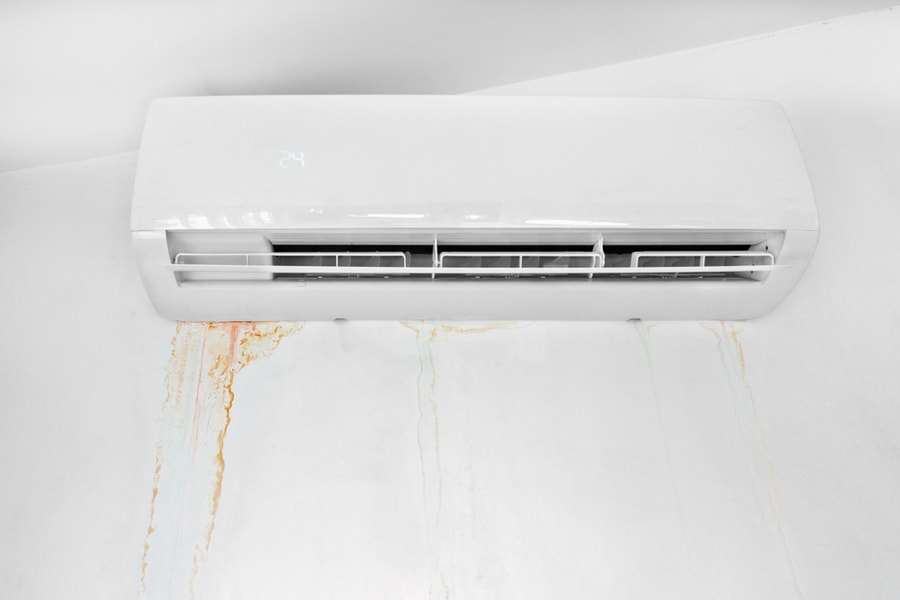 If you notice that your refrigerant needs refilling more than usual and after shorter durations, then it is leaking through the pipes or the storage.
It is associated with a foul smell and ticking sounds. If it keeps on leaking, it can damage the wiring.
Solution: Do not try to fix it yourself; call an electrician and repair the storage containers or damaged pipes as soon as possible.
Takeaway
Mini-splits are getting very common and are worth spending money on. They are by far the most efficient and modern adaptation of air conditioners.
Although its machinery is quite sensitive and a little different from regular units, some issues are quite common, like abnormal noises, leakage of fluids through pipes, dented fans and pipes, failing compressors, imbalanced temperature and dampness, foul smell, damaged outlets and failure of both indoor and outdoor units to coordinate.
All these problems are manageable as long as you understand the root cause of these problems, along with having the user guide and company's electrician on hold.
Frequently Asked Questions
Is a Mini Split Air Conditioner Better Than Other Air Conditioners?
A mini split AC is worth buying. It offers more advanced features and operates at a high-efficiency rate.
Especially if you do not have a very large space to cover, it offers a noticeable decrease in electricity bills, is more eco-friendly, and is easier to install and repair whenever and wherever needed.
How Long Does a Mini Split Air Conditioner Work Without Causing Problems?
All mini split air conditioners work fine for at least ten to fifteen years. After this period, it will start showing signs of aging.
All air conditioners start having issues with time regardless of the model, but you can extend up to thirty years if you maintain it well enough.